Are you looking for stylish custom labels to add a lovely finishing touch to your handmade hats and tablecloths?  Our creative team can offer a solution to create a perfect label that transfers and gives a professional, personalized touch to your handmade hats and tablecloths.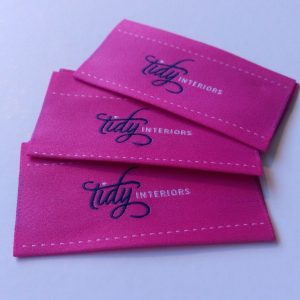 We offer alternative, stylish labels to fashion hats designers by combining the traditional woven design with contemporary digitally weaving technique to create a good quality, individuality custom labels for hats.
Iron-on label is a heat seal backing on patches (custom-made woven labels). Heat seal backings add some stiffness to woven labels, allowing them to lay flat, and softly attach on to hats.
We provide hot pressed, print synthetic leather labels, PU leather labels, and real, genuine leather labels.  Leather labels often use for hats, jeans and handbags labels. We use the finest and highest leather quality in our production.
We offer perfect custom woven, fabric label for your handmade tablecloths to create a true luxury brand, to make your brand distinctly different from other brands. We help our customers to choose different quality label to reflect the materials of their products. We have the best graphic design team to create the premium weaving definition labels.
Contact us today, our contact details are here; we will help to custom labels for your handmade hats and tablecloths.