If you're looking for a label that doesn't stick out, silicone heat transfer labels are for you. They appear tagless and are printed on to fabric using a special silicone formula. The result is a durable, high-quality, long-lasting and vivid label. Silicone heat transfer labels create 3D logos and prints on fabrics that will last and is also flexible and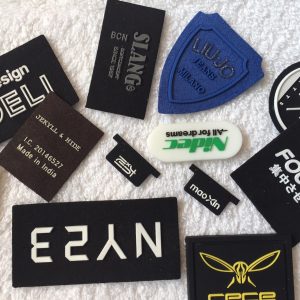 recyclable. The method of silicone heat transfer is environmentally friendly and is perfect when you just want the design and no obvious label edges. It can stretch and contour and is very crack resistant, it's also water and wash resistant. Our silicone transfer labels can be printed on to woven labels, cotton labels and PU labels, depending on your needs.
If you've never heard of a silicone transfer label before, you'll be pleased to know that they out-perform many other types of labels, are generally more cost-effective and longer lasting. The enormous range of colours and high detail silicone labels can provide also make them a very popular choice. Because silicone labels are 3D, they are also more impactful and customisable. The silicone heat transfer labels sit flush with the fabric and are great for company logos, text, or other images. At Perfect Labels-Lanyards, we offer a range of silicone labels and have a minimum order of just 500 labels. So why not try out silicon transfer labels for your labelling needs today? You're bound to be pleasantly surprised.
The feature of Silicone Transfer Label
Stretchable silicone with 3D logos
enormous range of silicone colours
Shiny or matt finished surface
Eco-friendly silicone materials
Contact us today, our contact details are here.