Thank you for visiting Perfect Labels – Lanyards
All our labels and tags are customized to design artwork, there is no standard label design, size, or price.  The label dimension and number of colours on it, are the factors to calculate your label & tag quote.
Large label dimension, and more colours will result in a higher quote.
Artwork for a quote (  PDF format)  – with measurement specified
We need label design artwork file in JPEG or PDF format. Please send this file as an attachment to your email. Please also indicate label dimension (measurement) on artwork.
Our custom woven clothing labels team will get back to you right away.  Or call us direct on 0116 318 3231 to receive a competitive quote.
Karyn Smith
Email: sales@perfectlabelslanyards.co.uk
              perfect.label@btinternet.com
Telephone:  07716 108 100Tel./Fax.: 0116 318 3231
  We strive to provide an excellent service in terms of quality of work, timely delivery, customer service and value for money. We offer competitive prices, low minimum order quantity and free UK delivery. We have collected so many woven labels reviews with an average score of 5. There are lots of customers are pleased with the quality & services.Here's what our customers say about our work and services. We appreciate all of our customers' testimonials.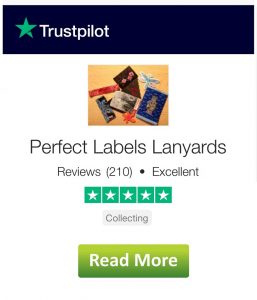 Top Customer Service and Labels Quality.
When asking a question I always got a fast and personal respond. I received the labels on time and the quality was in top. I would definitely recommend this supplier to other. All the best from here! Tom Scott, Leeds, Yorkshire