Thank you for choosing Perfect Labels – Lanyards for your labelling needs.
At Perfect Labels – Lanyards, we specialize in creating customized labels and tags tailored to your specific design requirements. We don't offer standard label designs, sizes, or prices, as every label we produce is unique. The cost of your label or tag is determined by factors such as its dimensions and the number of colors used in the design.
To request a quote, please provide us with your label design artwork in PDF format, with precise measurements specified. You can send this file as an attachment via email. Be sure to indicate the desired label dimensions in your artwork.
Our dedicated team of experts in custom woven clothing labels will promptly respond to your inquiry. Alternatively, you can reach out to us directly by calling 0116 318 3231 to receive a competitive quote.
Karyn Smith
Email: 
sales@perfectlabelslanyards.co.uk
perfect.label@btinternet.com
Telephone:  07716 108 100    Tel.: 0116 318 3231   As a prominent Woven Clothing Labels UK supplier, we are committed to delivering exceptional service, including top-notch work quality, timely order fulfillment, outstanding customer service, and great value for your investment. We take pride in offering competitive pricing, accommodating low minimum order quantities, and providing free delivery within the UK.We are proud to have received numerous positive reviews for our woven labels, with an impressive average rating of 5 stars. Many satisfied customers have praised both the quality of our products and the excellence of our services. Here's what some of our valued customers have to say about their experiences with us. We deeply appreciate the testimonials provided by our customers.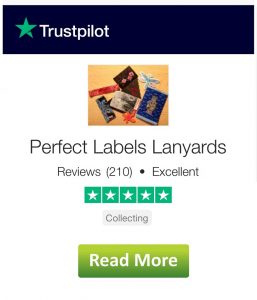 Top Customer Service and Labels Quality.
When asking a question I always got a fast and personal respond. I received the labels on time and the quality was in top. I would definitely recommend this supplier to other. All the best from here! Tom Scott, Leeds, Yorkshire