Perfect Labels-Lanyards is one of the leading custom clothing labels suppliers in the UK. We customize high street brand clothing labels ranging from clothing name labels, name tags, clothing label stickers, woven labels, and name tapes.
Custom clothing labels samples on video
The most popular brand clothing labels are damask woven labels, taffeta woven labels, and satin woven labels. Our custom garment labels can be created to your specification, any sizes, colours, designs and widths to suit your every requirement creating a truly unique.  Below is a small range of our name labels we produced for our clients:
Woven Labels for Clothing
Black and white clothing labels are the most classic colour combinations for woven label design. They are sophisticated elegance for designer clothes labels.   We can never deny the fact that the colour combination of black and white woven clothes label carries the most strong brand image.   And they are the best way to build a successful brand image. The advantage of ordering woven fabric labels is that they can last for a lifetime. Here at Perfect-labels-lanyards, we offer a wide variety of woven labels quality including different fabrics, weaving textures, and finishing process.
Woven Labels Reviews
We are always looking to make our products and services better for our customers and a trusted customer review site let us do just that by hearing what you really think about our woven labels quality and services. We listen to our customers' feedback and use it to improve our products and services.   Read below genuine customer testimonials and reviews on our custom woven labels.
See what our customers say about us.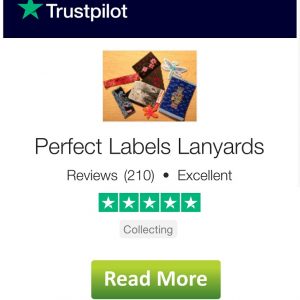 We provide professional labelling services to help our clients to develop their outstanding brand garment labels.  The advice we can offer you is on the label design layout, artwork format, colour threads option, label dimensions and the type of weave needed to make your woven fabric label exactly right for your  brand.
  Contact us today, our contact details are
here
.