Classic designer woven labels will never go out of style, and will always remain its elegance and basis of chic features. It conjures up visions of timeless; and this style has characteristics that appeal to designers who seek designs with neat & tidy looks. We tailored woven labels from top quality woven fabrics in colours that goes perfectly well with most materials of textile products. Black-White Woven labels are often considered as classic,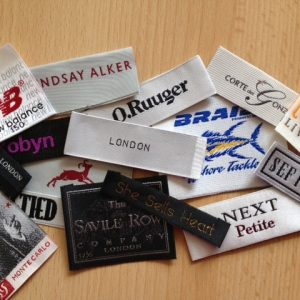 sophisticated woven clothing labels as it's a timeless statement to outlast all seasons' adventures.
Send your artwork on below email to us; we will help to customize, classic fashion and personality style, woven labels for your brand.
Custom woven designer clothing labels -Contemporary style
Be fearless. Enjoy the challenge and diversity of designing in different contemporary styles.  As one of leading designer woven clothing labels makers, we value the contribution of the emerging creativity in fashion. We welcome all labels design challenge from our clients, and we give full support to achieve, in any possible way, to produce a perfect end result labels, from trying different fabrics to manufacturing innovation and with an injection of contemporary metallic colours threads in woven label styles.
Send your label design artwork on below email to us; we will help to achieve a perfect designer woven clothing labels with a dynamic contemporary style for your brand.
Our contact details are here.