The small details can make a big difference and custom-made silicone heat transfer logos create a stunning 3D logo suitable for application on a number of materials.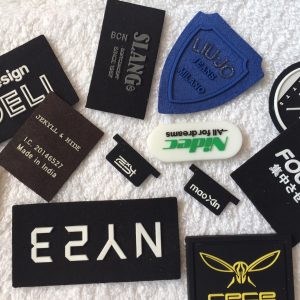 Whether it's an item of clothing or an accessory, silicone rubber logos are easy to apply using a standard household iron and therefore no sewing is required. Silicone heat transfer logo available in glossy or matte finishing.
How to Iron on a Silicone Rubber Logo
It is very easy to apply a silicone heat transfer logo by household iron. Simply set the temperature to 160 degrees, make sure the material (fabric) is clean and crease-free before holding the hot iron firmly on top of material and silicone label under the material, for approximately fifteen seconds. The iron or press must be 3-6kgs in weight and users must press down really hard for the best results. Wait for the logo and fabric material to cool down before peeling the silicone off. The fabric and silicone will merge together, thanks to a special adhesive forming a durable logo that is machine washable below 60 degrees.
These labels are as good as woven fabric labels and are environmentally friendly.
Specialist printing allows us to create sharp, 3D logos. Unique silicone heat transfer logos can be purchased in bulk with a minimum order of 1,000 labels. The larger the logo size, the higher the costs.
Get in touch with us today to discuss your design requirements. Our contact details are here.