Custom clothing labels are essential for new brands
In 2017, starting your own clothing brand is easier than ever; with screen printers, print on demand companies and bespoke cut and sew manufacturers just a few clicks away.  Many of the most successful up and coming brands started simply by screen printing innovative designs on blank t-shirts, vests and hoodies. So, what is it that sets apart a successful brand from an individual 'just printing on a shirt'? Quite simply, a professional product.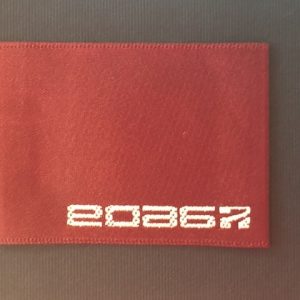 And if you're looking to start your own brand this way, I've got some great news for you – there's a fine line between a professional and amateur screen printed product. If you're savvy, there's absolutely no reason for your product to look amateurish. So, how do you turn a screen printed blank into a professional, retail ready, product?
1) Custom Clothing Labels
Most blank t-shirt manufacturers have their own clothing labels in the neck of their t-shirts, hoodies and so on. So, in order to make your brand professional, the first thing you should be doing is replacing their label with your own woven neck label. To really push the bespoke look, you can even consider sewing custom fabric labels to the outside of your products too.
2) Custom Tags / Swingers
Tags and swingers are the card that hand off the label. These tags give a screen printed blank a real custom, professional look. A swing tag can be made to your complete specification.
3) Custom Packaging
By folding your t-shirt or hoodie into a printed, custom plastic bag, you're adding that final professional touch. There's nothing better than ripping a bag open to reveal a crisp, fresh new item of clothing. If you want to satisfy your customers, this is the final piece of the jigsaw. With the implementation of these 3 simple additions, a simple screen printed black t-shirt can look like a bespoke, professional product that people are more than happy to part with money for. Great designs, good marketing and following these 3 steps will ensure that your brand grows from strength to strength.
We are a leading UK-based Labelling company with over twenty years experiences in supplying fashion branding garment labels.  We provide comprehensive advice and professional labelling consultation that are related to the design of garment labels and hang tags  with a quality reflecting our customers' brand image and corporate culture.
Contact us today, our contact details are here.