Happy New Year to you all!! Are you exciting for the upcoming Spring Collection February 2016?
Custom Clothes Labels for New Collection
We have recently participated an exciting fashion catwalk show in Paris, and were so glad to meet a group of aspiring artists and fashion designers who are looking for ideas of new fashion design and creativity in customizing their brand clothes labels. Many of these designers are fashion start-ups and are looking for chances to showcase their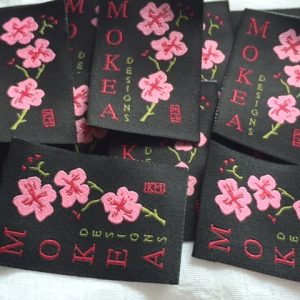 work of art to audiences in the fashion apparel industry. Our low MOQ (low minimum order requirement) for custom-made clothes labels has helped many fashion start-up designers to achieve their dreams in creating their first brand clothes labels. Our sales team pays such a close attention to details in design ideas and artwork; and we has established a good working relationship with these new talents and achieved to create a perfect garment labels for them.
We are a professional woven clothing labels supplier in the UK. We help customers to design, weave their brand woven labels for more than 20 years now.  A fashion woven label design combines the features of culture and modern art can help to create an outstanding boundary-pushing brand design. Contact and send us your woven label design artwork on below email; we will help to custom an outstanding brand woven clothes label for your new Spring Collection 2016.
Contact us today, our contact details are here.