Do you know how woven labels are  made ? Woven (sewing, stitching) Fabric Label is made of jacquard weaving loom. The woven image is created by the warp and weft threads in a loom.   Warp thread is the vertical direction of woven label.     Weft is the horizontal direction threads, also called woof, and it is the weft threads which are drawn through the warp thread to create the woven stitched cloth (such as design pattern, logo, or brand name).  The best, soft, and high-definition woven label is the Damask High-Definition Woven Label.   Damask woven label has the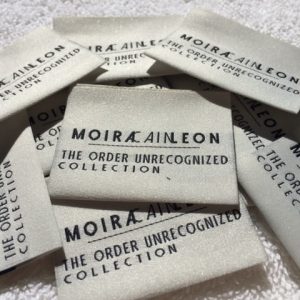 highest density of stitching threads to create a fine and detailed woven image. Taffeta Woven Label is about the half volume of stitching threads made on Damask Woven Label, while Satin Woven Label is about 60% of stitching threads. For the brand owners who sell the luxury, and expensive products, we would suggest them to custom-made Damask High-Definition Woven Label; damask high-density weaving quality is the top, and premier brand woven clothing label.
The Woven Threads versus Woven Label Quality
Woven polyester labels are made of polyester spun yarn in 25, 50, 75,100 denier. Denier is the weight of the thread, in grams of 9000 meters of the fiber. The thin, lightweight threads, such as 25, 50 denier threads can create the most detailed woven image.
Using different colour threads (yarns dyed in different colour) can have certain influence on the end-result of woven label quality. Yarn dyeing process is made of a solution containing dyes and special chemical treatment. The Dye molecules have a different chemical bon with fiber molecule; and the temperature and time controlling are also the two elements in creating a different end-result of dyed colour threads. Basically, when choosing different colour polyester threads to create the exact same label design pattern, can end up creating a slightly different woven label quality. The contrast is even more obvious between the extreme light colour thread and the very dark colour thread.
Woven Label Design Ideas
All above factors: weaving technique, thread quality, and different colour threads will affect and could determine the final outcome of label quality.
Contact us today, our contact details are here and send your woven label design artwork on below email; we will help to custom a bespoke brand woven clothes label that suits your brand design.