The perfect designer woven clothing labels should reveal the nature of a character of the brand owner; each woven label communicates a lifestyle and a desire for self-expression. A strong brand designer woven label will reinforce your positioning in the textile market. The most important strategy in designing strong brand designer woven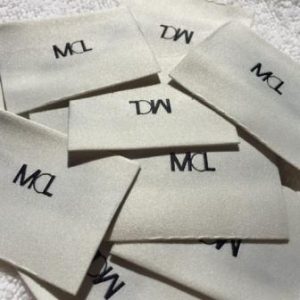 clothing is to keep the design simple, humble, curious, abstract. Then it is our job, a professional woven label maker, to convert your beautifully designed, well-promoted brand into a strong brand woven label.
Woven damask labels is a matte-finish, soft stitch fabric made from polyester. At Perfect-Labels-Lanyards, we use the finest, thin, soft threads in labels weaving. The end-result of our woven damask labels is extremely soft; absolutely no irritation when touching on the neck. This stitch label is the perfect option for woven neck labels. Damask Woven labels are also an ideal option for baby clothes labels for its nice fabric looks and feels; as well as its soft and lightweight enough to feel really comfortable.
Contact us today, our contact details are here; we will help you to choose the perfect designer woven clothing labels for your textile products and baby clothes.