Woven Garment Labels – UK Supplier
We specialize in custom woven garment labels. The items we make include the most popular clothes labels such as fashion designer brand clothing labels,  high-definition (damask weave) woven labels, and woven cotton labels.  We also provide the most-ordered items such as personalized clothing satin labels, identification taffeta labels, craft labels, care wash size labels, and woven name tapes.
The above labels are only  a small range of the woven garment labels quality we supply. However, if you require any further information for specific clothes labels such as cotton, leather and rubber labels.
Woven Garment labels Video
Woven Garment Labels Manufacturing
Our factory started up with Garment Label manufacturing; it is our specialty and we share this professional weaving knowledge with our customers.  We want you to be confident that your custom-made garment label is of the very highest quality, at cheapest & affordable price, and low minimum quantity requirement.
A Wide Range of Personalized Woven Garment Labels
We can provide advise to help our customers to achieve the best label design in layout, colours,  dimension and the weave type. All of our clothes fabric labels are completely customized to design artwork.
Woven Garment Labels made to your specifications
Our Garment Labels can be created to a number of sizes, colours, designs and widths to suit your every requirement creating a truly unique customised garment label.
  "I received the Garment Labels last week. Thank you very much, they are top quality and I am very happy with them. Thank you once again for your excellent service." –Paivi Salo
"Just wanted to let you know that the Woven Garment Labels arrived with us yesterday and they look fantastic! Can't wait to sew them on to our shirts. Thank you for such good service, we will be in touch when we run out of them!" –Garry Carverhill
Woven Designer Labels
Are you a designer looking for that perfect finishing touch to your branding textile products?  Then look no further than Perfect-Labels-Lanyards for your bespoke woven designer labels. Our designer fabric labels can be customised to suit your exact design specifications from size, colour, shape, images and text to perfectly compliment your brand image and the garments themselves. We offer a quicker lead-time than all other suppliers and a 5% discount from repeated orders.
Woven Adhesive Labels
We are able to produce a wide variety of clothing fabric labels with adhesive-backing. This including woven fabric labels, and rubber labels with adhesive backing  to suit a wide variety of design specifications, budgets and time frames. Our woven fabric adhesive labels can be designed to fit around your company logo or business requirements; for example the laser-cut shape, style, size and colour are all completely customisable to your needs. Our custom woven fabric adhesive label is the perfect way to showcase your brand at its best.
Garment Label Maker
Our Woven Garment Label Makers are able to weave different textile styles and  create completely customised textile labels to suit your branding products. This includes professional finishing with custom fabric designs and  brand logos attached. The unique advantage working with us  is that we are both supplier and manufacturer which enables us to provide a flexible manufacturing service and competitive price to our customers.
Personalised Garment Labels
We have more than 20 years of experience in the manufacturing of personalized woven garment labels; it is our specialty and we share this professional know-how with our customers. There are many uses for the personalised garment labels whether you are a dressmaker, designer, large clothing company, small clothing company or if making clothes is simply your hobby and passion. We provide industry-leading woven clothing labels quality.  A good quality of branding label is one of the most important aspect of any new designer clothing business. Don't make your first decision wrong. Only order the fabric label from the best clothing label maker.
Bespoke Clothing Labels
If you are looking for the perfect labels company to design and produce your bespoke clothing labels then look no further than us. With a wide customer base including large clothing companies, designers, clothes makers and individuals we have the knowledge base and skills to produce your perfect bespoke clothing label. All of our bespoke clothing labels are finished to the highest standard using quality materials and finishes. You can design your bespoke label from scratch including size, colour, text and logo images creating a truly unique bespoke clothing label that represents your company or brand image. Why not take a look at our range of customer comments or contact us  today to start discussing the design of your bespoke clothing labels.
Woven Zip Pullers
We are able to create a wide range of woven zip pullers to suit your every need. We can create completely customized woven zip pullers for any piece of clothing which can be customized to include logos, text or designs of your choice. We provide extensive range of Woven Zippers Pulls in flat or padded, and in damask satin high-definition weave quality. They are great way to reinforce your brand logo or name onto your garments. We can also produce Zipper Pulls styles in metal, PVC and leather.
We supply our customers with the highest quality and fine detailed  woven badges that are made to your exact deign specifications. You can customise your woven badge to include logos, text and colours where we can transfer the image in your head onto your perfect woven badge. The badges can be cut to any shape and incorporate the most intricate designs. The option of finishes can be non-woven backing, iron-on backing, and self-adhesive backing.   You can also have the overlocked edges.  Get in Contact today to talk to an advisor and to receive a competitive quote.
Woven Ribbons
Alongside our woven zip pullers and woven badges we are also able to provide a range of custom-made woven ribbons. Our woven ribbons are ideal for adding that personalized touch to gifts, home crafts, home décor, clothing trimming, and textile accessories.  The customized woven ribbons can be used for all types of special occasions including weddings, birthdays, anniversaries, christenings or as a special keepsake for family and friends. Here at Perfect Labels Lanyards we can produce your bespoke woven ribbons to your exact requirements. Our prices are competitive and we provide a quick and efficient service.
We have two machines to produce woven ribbons. One option is made by woven labels looms with a low minimum requirement at 100 meters.  The other option is made by a professional jacquard narrow tape weaving loom; this is a supper woven ribbon quality, and they are ideally  for clothing trimming and accessories.
Custom Embroidered Labels
Embroidered labels are a kind of fabric clothing label decorating with ornamental needlework. They are not the same weave quality as woven fabric labels. Embroidery is the handicraft of decorating fabric or other base materials with needlework and coloured threads. If you're looking for perfect custom embroidered labels then we at perfect labels lanyards can help. Alongside our printed, woven and satin clothing labels we are also able to produce high quality, unique custom embroidered labels. The base-fabric options of our embroidered labels are polyester fabric, cotton canvas fabric, and leather material.
12mm Woven Name Labels
Here at Perfect Labels Lanyards we can provide you with a wide range of label sizes, including 12mm woven labels and ribbons. 12mm woven labels are ideal for name tags, garment labels, craft labels, designer labels, and made-hand hats and ties labels.  We can design your label to include a wide range of colours, motifs and fonts all designed and created to match your brand image. We've worked with a wide range of clients and we pride ourselves on providing high quality standard woven brand labels.
23mm Woven Labels
Looking for 23mm woven labels? We can provide you with a wide range of quality fabric labels made by  polyester and cotton threads. 23mm fabric labels are ideal for all types of brand name tags, clothing labels, shoe labels, cushion and care labels. We can design a personalized label to suits all your brand requirement.  We've worked with a wide range of clients and we pride ourselves on providing high quality standard woven labels. Contact Us today to talk to one of our experienced advisors. Our design team will provide our expertise in label design and manufacture to turn your label into the ideal woven fabric label.
Satin Clothing Labels
Here at Perfect Labels Lanyards we are able to provide a wide range of satin clothing labels. Our ranges of satin clothing labels are ideal for all types of clothing and industries, such as dressmaking, clothing designers, fashion students and wholesale clothing companies. We can design your satin clothing label to meet your exact specifications and requirements including colour, size, shape, font and text creating the perfect custom label. Our design team will work with you from the beginning to the final product to ensure that your satin clothing label meets all your expectations.
Woven Apparel Labels
Our high-definition woven fabric apparel labels are soft with a silky smooth texture.   We provide a full range of garment fabric labels. With available stock of more than 300 coloured polyester threads,  we are able to create a beautiful, vivid colourful woven apparel label. You can design your own brand woven fabric labels for any craft project and handmade knitted textile items. We provide no minimum order requirement for woven polyester apparel labels. And its free sampling, and free UK delivery.
Leather Labels
Apart from the soft fabric labels, we also supplier custom-made quality leather labels. We are one of the UK leading leather labels suppliers. Leather is such  a beautiful natural resource material, it is durable  and flexible. Leather labels are great brand logo labels; they are ideal for outdoor clothing, jeans, handbags, hats, handmade items and textile accessories.
Soft loop-folded leather labels
We have the premium soft and fine leather material in stock. They are ideally for loop-folded, and they are the best leather material.  They are available for printed and embossed finish.
Raised Silicon Transfer labels
The silicon heat transfer labels are great for company logos, text, or other images. They are highly stretchable silicon with 3D logos. The colour can be shiny or matt finished. They are eco-friendly silicon materials.
Eco-friendly and Recycled Hang Tags
It's the little things that make the biggest difference, and what better way to show off your dedication to reducing waste than by swapping your standard hang tags for an eco-friendly version? A handmade eco-friendly tag can be just as flexible as a regular tag, with a variety of shapes, sizes, finishes and colours to choose from. We offer handmade eco-friendly tags and recycled paper swing tags to bring a unique touch to each and every garment.
Woven Labels UK Review
In order to improve the satisfaction of our customers, we have partnered with an independent review site Trustpilot to collect customer review. View our review here.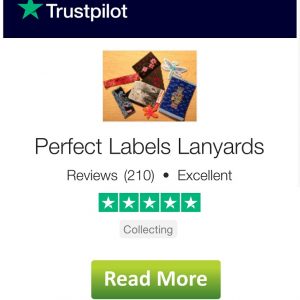 Order your Woven Garment Labels today
We are a market leader, a UK Based label company, specialists in the design and manufacture of bespoke garment labels. For more information regarding our range of  quality Customised Woven Garment Labels or just to talk to one of our labelling advisors, contact us today.
Contact us today, our contact details are here.